Westport Woods Wedding Reviews
What They Say
When the ceremony is over, the dining is done, the speeches made, and the dancefloor is glittering with rose gold confetti - we are always delighted to hear what the couple have to say. Learn what past newlyweds thought about their weddings at the Westport Woods Hotel: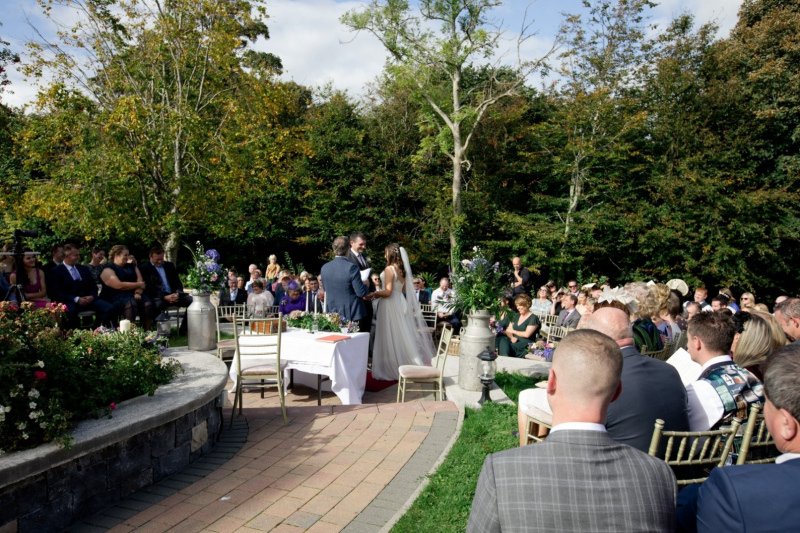 24th September 2022
"Caroline and the team there are amazing and we were happy with everything, food, service and a really beautifull venue"
Niamh & Eoin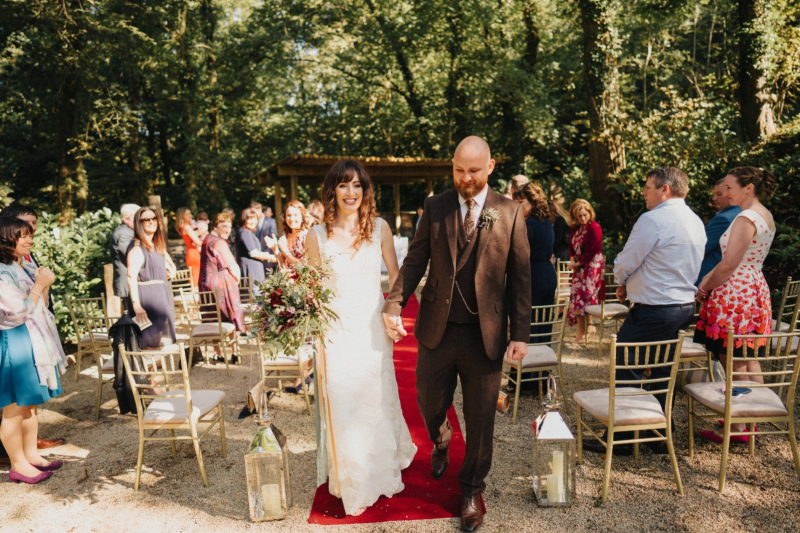 19th September 2020
"Each member of their team were wonderful, the dinner/drinks service and servers were superb, efficient and friendly, even a big shout out to the two gardeners working so hard to make the ceremony area/gardens perfect on the morning of our wedding - they are all a credit to the hotel. We totally see why you were such deserving winners of the Wedding online awards Hotel venue of the year Connaught."
Claire & Ian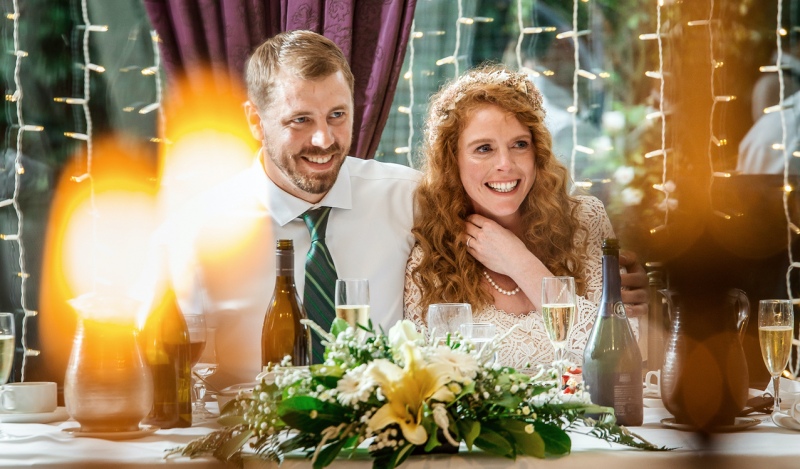 24th August 2019
It is perfect for a destination wedding. We were 70 guests, and nearly all the guests stayed at the hotel. They all loved it! The food is from local vendors/distributors. Bravo to the chef, and the staff on the floor, who were very efficient, attentive, kind and talented! The hors d'oeuvres, the dinner were simply amazing. The wedding team is brilliant, you are in great hands.
Matthew & Melisande (read the full review here)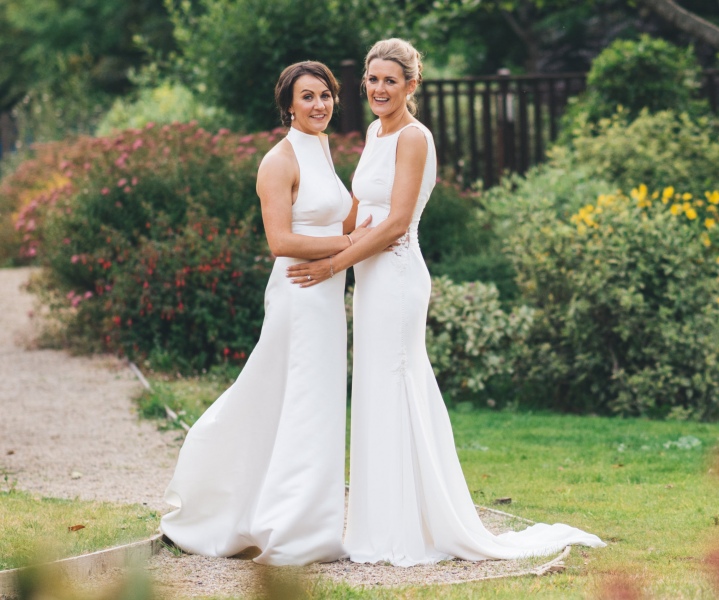 6th July 2019
" It was amazing. From our first contact with Caroline and Seamus to the final product, everything was so easy and fun. We had such a blast on the day with everyone commenting on how fantastic the hotel was. The food was out of this world and was served around the tables with precision!"
Marita & Ann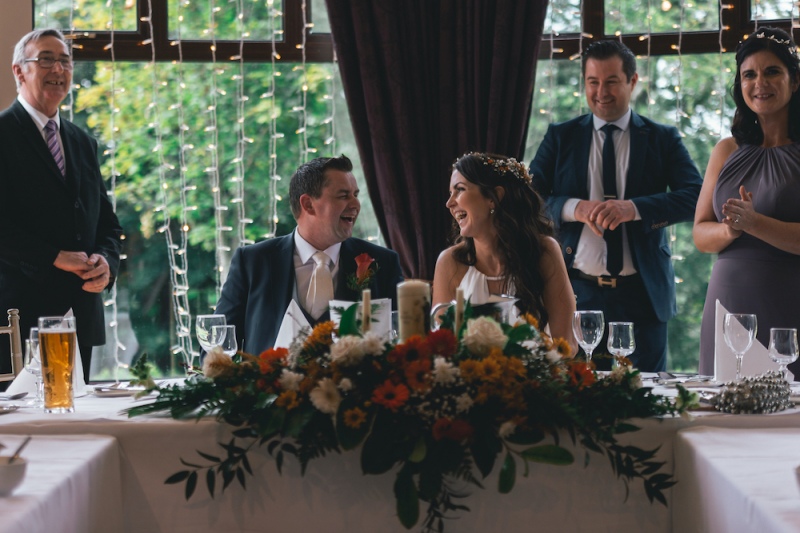 14th June 2019
"All our guests commented on the delicious food on our wedding day. Our guests had choice of starter, choice of main and choice of dessert, which we had chosen from an extensive list of meal choices. It was scrumptious from start to finish. "
Maria & Gerard (read the full review here)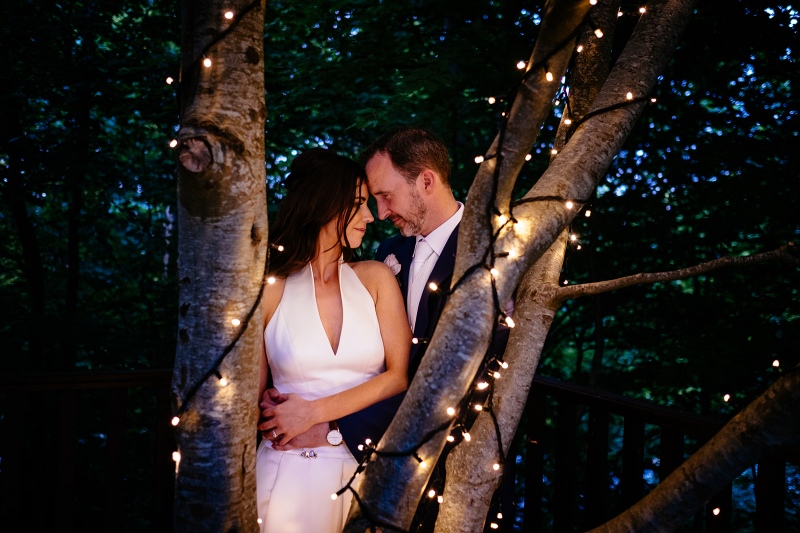 1st Jun 2018
"If I could give more stars I would. This hotel is a must for your wedding. We got married here on the 1st of June and I am still getting compliments from our guests about how amazing this hotel was. The service, the food, the decor, the location, everything about this hotel is fantastic"
Michelle & Liam
More from our couples…
23rd June 2023
Amazing from start to finish. Wanted an outdoor experience and got it. They did as much as they could with the weather we had and it was perfect. The food was gorgeous (we went with the Al fresco experience).
Louise & Sean
16th June 2023
Words cannot describe how amazing the day was. We met Caroline 18 months before the wedding and she was amazing, always available to answer any of our questions. Every single guest speaks about how amazing Seamus was. From fixing my hair, straightening the lads buttonholes to lending someone clothes, he was there for everyone.
Sorcha & Donal
5th May 2023
Both Caroline and Seamus made sure everything and everyone were looked after. The Lakeview Room provided a stunning backdrop to our ceremony and the Mulberry Suite was beautiful, bright and airy with gorgeous outdoor space for our dinner and evening celebrations. The reception food and dinner were amazing and generous, so many of our guests have since commented on the gorgeous food.
Kelly & James
16th December 2022
Could not recommend this hotel more, from the second we walked in the doors the day we viewed the venue we were treated like absolute royalty, the staff, seamus and Caroline were so flexible, there was nothing they wouldn't do for us. Absolutely loved our whole wedding weekend we would not change one single thing.
Geraldine & Brendan
19th August 2022
r in the day, we were able to take advantage of the lovely outdoor area for our reception. Several guests commented on how good the meal was and the reception area is perfectly set up to make sure the dancefloor is busy all night. The bar staff were brilliant and kept everyone well oiled late in to the night. In the lead up to the big day Caroline was responsive and attentive. We had complete confidence that everything was under control and we really valued her advice. Seamus was also brilliant on the day itself and everything went off without a hitch.
Katie & Gordon
3rd July 2022
t. The staff were brilliant, and the food was incredible- there was so much food, all the guests commented on this. The function room was beautifully decorated. Caroline was a pleasure to deal with in the run up to our wedding, we spoke often through email and we also met her a few times before the wedding. She offered a lot of advice and guidance.
Jessica & Matthew
22nd November 2019
We had our civil service wedding there last November 2019. It was fantastic. Staff was brilliant, Seamus and Caroline were fantastic with our family's and friends. There was great for kids.. Food and wedding was fantastic. It was the best.. Thank you all so much for the day. Which I will never forget..
Nicola & Gerard
1st November 2019
We decided to go with Westport woods because we were having a civil ceremony and we loved the room where they gold there ceremonies. We were dealing with Caroline she was very helpful from the day we booked our day up until the day after the wedding. Also Seamus was very helpful on the morning of the wedding and through out the whole day. We had an amazing day.
Sophia & Noel
4th October 2019
Caroline and Seamus did an amazing job, along with rest of the staff in the Westport Woods Hotel. Food was amazing. We did not have to worry about anything. We both had such an amazing day. I would highly recommend the place. Thanks Again.
Paul & Marian
20th July 2019
Seamus and Caroline were a dream to work with great ideas and were able to give great advise to help our day run smoothly. We wanted something little more relaxed and party feel and they done exactly that. The woods outdoor area is fab we actually were able to get married outside they made this happen was just beautiful. We had the bbq the food was fab and guests were raving about it and could go back for seconds. We had a friends wedding there 2weeks ago seat down meal was also really tasty.
Highly recommend the woods for the room,outdoors, staff and for the wedding team.
Stacey & Mike
28th June 2019
Dermot and I would highly recommend Westport woods as a wedding venue. The entire team were fantastic to speak with during the planning and super efficient on the day itself. The room was set up beautifully and everything was immaculate. The food and wine was amazing and with no wait! The layout of the room and outside area really contributed to our guests having a brilliant time as it kept everyone together and the atmosphere relaxed! We would love to do it all over again, i would recommend booking it without hesitation! We are back for a friends wedding soon and cannot wait! Thanks again Seamus, Caroline and Joanne!
Jamie & Dermot
27th June 2019
From the minute I booked our wedding I was met by the wedding organiser Seamus Lally who was absolutely amazing from start to finish and throughout the whole day.The organisation of the rooms, the venue and the staff was an absolute treasure throughout the whole experience.
On behalf of myself and my husband Pat we would like to send our sincere thank you to the the woods hotel and to all their staff.
Kathleen & Pat
21st June 2019
We had our wedding at the lovely Westport Woods Hotel on the 21st of June 2019.
From the time we booked the venue all the way up until our wedding day and after, the standard of care, courtesy and professionalism was second to none. Nothing was a problem and anything we needed to know re wedding Joanne, Caroline & Seamus were always on the other side of the phone or email. We also had extra requirements as we were trying to infuse 2 cultures into the wedding and again they made our ideas/dreams come true!!
Our wedding day came and everything was brilliant Food was out standing, we had a BBQ menu with a buffet which suited all diets requirements and also a Pig on the Spit.
The venue itself is so conveniently located in such a beautiful scenic area, perfect for wedding photos! We had that 'Fairy Tale' rustic ceremony outside and it was unreal.
Thank you guys so much, you truly made our day! I had a few tables i needed set up for the day e.g. guest signing table and sweet table etc and omg they were done to perfection. The one thing I loved was I didn't have to worry about anything on the day Joanne and her team had everything under control and they went above and beyond our expectations. everyone at the wedding had a fantastic day and are still raving about the food and the hotel and how everything was done so fluidly. I would highly recommend The Westport Woods Hotel for your wedding or any occasion.
Alan & Cynthia
15th June 2019
From the moment we had our first meeting with Seamus the fabulous wedding co-ordinator, we knew we wanted to have our special day at the Westport Woods Hotel. The grounds and reception room are stunning and the staff are wonderful. The wedding team Caroline, Joanne and Seamus were always on hand and nothing was too much trouble. They gave great advise and really made us feel relaxed as everything was taken care of. They are true professionals and I would highly recommend the Westport Woods Hotel. Only wish we could do it all again, we had an amazing day. Thanks guys
Sharon & Darren
15th March 2019
"We had our wedding here on the 15th March. The hotel staff went above and beyond. The food was top class and were still getting people talking about it. The hotel itself was second to none, the atmosphere was electric and we couldn't find fault with it. We would defintely recommend the Westport Woods Hotel"
Karen & Alan Murphy
27th October 2018
Joanne & Seamus were very friendly & helpful & responded promptly to every question/query we had on the lead up to our big day! Food was excellent. Beautiful function room.. A must see if planning on having a rustic woodland wedding or outdoor ceremony/buffet.
Annette & Shane
11th October 2018
The staff in the Westport Woods were a pleasure to deal with all the way through the process of planning and organising. They always replied to queries in good time and made us feel welcome and relaxed at every meeting. Meeting times were very flexible, at all times there was one of the coordinating team on hand to answer any questions we had. On the day they really were a delight, taking all the pressure off us so we could enjoy our day and time with our guests. We had to change schedule of speeches on the day as we ran late arriving at the venue but this was no hassle to Seamus and the staff. The venue itself is relaxed and beautiful, the grounds were gorgeous for our photos and even the indoor space where we took our family pictures was a lovely backdrop. The food was delicious - portion sizes were generous, arrived at the tables hot and all guests were offered extras of everything. Room rates for the guests were very good also. I would highly recommend the hotel and the staff.
Deborah Mc Hugh
8th September 2018
The wedding team at The Westport Woods were absolutely fantastic to deal with. From start to finish, they were flawless to deal with. On the day itself, everything went so smoothly. And I have to say that Seamus, Caroline, and Joanne really made us both feel calm and confident on the day. We opted for a BBQ wedding and although the weather wasn't on our side on the day, it really didn't matter. Our guests and us were simply thrilled with the food, the service, and the overall feel of the wedding reception room. Seamus was especially helpful with setting this up on the morning of — so many thanks for that! Thanks again to the wedding team at The Westport Woods! We would highly recommend!
Saoirse & Darach Lennon
31st August 2018
Westport Woods was amazing. We dealt Seamus and nothing was too much. He was fantastic and so easy to deal with. On the day anything we requested was done 100%. From the minute we met with him nothing was too much to ask for. The hotel was gorgeous and the food was absolutely out of this world. Would definitely recommend this venue to future couples.
Linda Moran
4th August 2018
We are 7 month into married life now, and We were looking back on our amazing Wedding day! We had such a great day, it's true what they say, it really was one of the best days of our lives! It definitely was down to a lot of planning, however, this was made so much easier with experienced Wedding Coordinators at The Westport Wood Hotel. We chose the Hotel for its great location close to Westport, outside of the town with good parking & accommodation facilities. We also feel in love with the ballroom it was chic & modern (with recent renovation works in Ballroom) also having its own bar it meant all our guests would remain in the same area. Joanne, Seamus & Caroline were fantastic in all aspects of planning out our day, any queries I had they would have an answer to help with my questions almost straight away, even for those silly questions. They were flexible with table planning which I felt would be the hardest part, they made it a breeze. So having said all of that I would highly recommend The Westport Wood Hotel for anyone considering a Wedding in Westport. Lovely Staff, Great Location, Amazing food, Beautiful Ballroom!!! Thank You Joanne , Seamus & Caroline for the great memories! xx
Karen & Liam
22nd June 2018
We had the most amazing wedding at the Westport Woods Hotel on the 22nd June 2018. It was a beautiful day and we had the option to have the ceremony outside. It was stunning! The drinks reception after the ceremony went down a treat and the outside area looked amazing. The dinner was gorgeous and there was plenty of food the staff even came around and offered extra food. My husband and I have 3 children aged 2 to 7 and it really is a perfect venue for a wedding with children. Plenty of space outside and a play area and Seamus put down a load of bean bags on the grass and the kids had a ball. It was an amazing day and every single thing that the team at the Westport Woods did was flawless!!
Nicola
31st May 2018
We originally had our wedding booked for July 2019. Early this year we got news that changed every thing. I contacted Joanne in The Westport Woods Hotel in January and she could not be more supportive and Accomadating to our requests and wishes. We were constantly in touch with each other which made things so much easier on us. Seamus was just a god send nothing was ever a problem no job to big or small he always gave 100%. The day of our wedding went so smoothly thanks to all the staff and there hard work. All of our guests praised the staff and management of the hotel so much they thought the service they received at our wedding was unbelievable from the beautiful food to the decor. We would love to do it all over again. A huge thank you to Seamus, Joanne and staff for making our day so special xx
Eamon & Sheila
26h May 2018
First of all apologies for how long it has taken for us to get around to writing this review, the months after the wedding go just as fast as they do leading up to it! We can't thank all the staff at Westport Woods Hotel enough for the fabulous service they provided for our wedding. Special thanks to Seamus, Caroline and Joanne who worked so hard to help us have the most amazing time for our day. The support and help they provided was second to none. They were quick at responding to our emails and always on hand to offer advice and giving us a little nudge in the right direction if we needed it. They were all so professional and friendly and made us feel at ease from the moment we went to view Westport Woods as a venue option. My mum commented on the day that she noticed how attentive Seamus was and that he was never far from Jason and myself at all on the big day and was always making sure we were well looked after. He was so accommodating with our little 18 month old boy too and making sure there was plenty of ice cream to hand! Your wedding day goes by in such a blur that it was so reassuring to have such professional, caring, friendly staff taking care of things for you so you could just enjoy your day and not sweat the small things (as these are always taken care of, even before you can think of them sometimes!). We were so so lucky that the weather played nice and we were able to have our ceremony outside in the grounds of the hotel as well which just made the day. The outside fire pits and bean bags were a great hit with all the guests. We had quite a few kids at our wedding and the setting was perfect for them and the parents as the kids could run around the grounds and use the playground while the parents could look on from the bar area. It was also fantastic to have have the Kids Club take the kids out for games whilst the speeches were on. The food was lovely, the venue is beautiful and the service was brilliant. We could not of asked for anything more. Thank you so so much for helping us have the most amazing day!
Kate Hardy & Jason Hurst
19th May 2018
The wedding team at the Westport Woods were fantastic to deal with. From the very start Seamus and Caroline were fantastic. They could not do enough for us - from answering any small queries, responding to our emails so fast and being available to meet us in person when we came to Mayo. We really felt in capable hands and you can tell that wedding co-ordination comes as second nature to them. Caroline had no problems at all the evening before the wedding in us handing over some props we wanted to use and setting them up in for room for us. They took away all the stresses. On the day itself, they had no issues when we decided to change around the format of the speeches and just went with it. The room looked fantastic and the food was great. Everyone commented on how they did not have to wait a long time between courses and on the quality of the food. I should also mention here we had asked at our menu tasting evening if they could accommodate a specific starter and they did this without any hassle. Nothing was too much trouble and I could not recommend the Westport Woods highly enough for your wedding!
Damien & Marie
18th May 2018
I would highly recommend Westport woods hotel to future couples planning a wedding. The team were great always replied to emails and calls straight away and had lots of great advice! The day itself was perfect and all our guests commented on the hotel and the lovely grounds :)
Aisling
27th April 2018
We would recommend this hotel to any couples planning their big day. The staff were amazing. We cannot praise them enough. They were very helpful, friendly and professional. They were great while we were in the process of planning right through to our big day. We had a stunning day. It couldn't have gone any better. Even our guests praised the hotel and staff and said it was simply a brilliant wedding!
Mr & Mrs Regan
7th April 2018
Séamus and Caroline were brilliant in helping us organise our wedding and looking after us and our guests on our wedding day. Food served at our wedding was of a high standard and all our guests spoke highly of the food. All staff were polite friendly and helpful to all our guests at our wedding from check in to serving tables. Kids clubs to keep kids entertained during speeches was a big plus. The only slight hiccup was the shortage of bar staff after dinner in the function room bar but that was quickly sorted out by Séamus.
Kelley & Thomas Clarke
24th March 2018
We cannot say enough great things about Joanne, Seamus and the entire staff at the Westport Woods Hotel! Having to plan our wedding from Toronto, Canada was stress inducing to say the least, but from the very first email Joanne put us at ease and we 100% knew our wedding reception was safe in their hands. We always received quick responses, even given the time difference, and Seamus was always willing to jump on a call with us (numerous times!)... and ALWAYS came with amazing suggestions and was very flexible with any requests we had. The reception itself was a dream - great food (a number of guests commented on how incredible the food was), great atmosphere and great staff overall. A huge thank you to Joanne, Seamus and Westport Woods for making our wedding reception everything we had hoped for!
Amy & Richard
24th February 2018
Everything about our wedding was beyond perfect! We had so many compliments about the food and service on the night. There was nothing we asked for that they did not make happen and we were able to personalise every part of our reception.
Michelle & Darren
February 2018
"Any requests we had (even the weird ones!) they could not have been more accommodating. All our guests had such high praise for the service, the food, the accommodation and even the spa facilities."
Ray (Tripadvisor)
---
We made their dreams come true, let's start planning yours.