Beech Spa Westport Woods Hotel
We are ready to help get your holiday to Westport off to a relaxing start.
It doesn't matter if your here for a week or just stopping off in Westport for a night, a treatment in our Beech Spa gives you the chance to take some well earned alone time with gentle and soothing treatments. Step inside and see the low candle light, hear the tropical sounds and smell the lavender from our aromatherapy diffuser with it's relaxing, naturally cool mist, helping you unwind from the get go.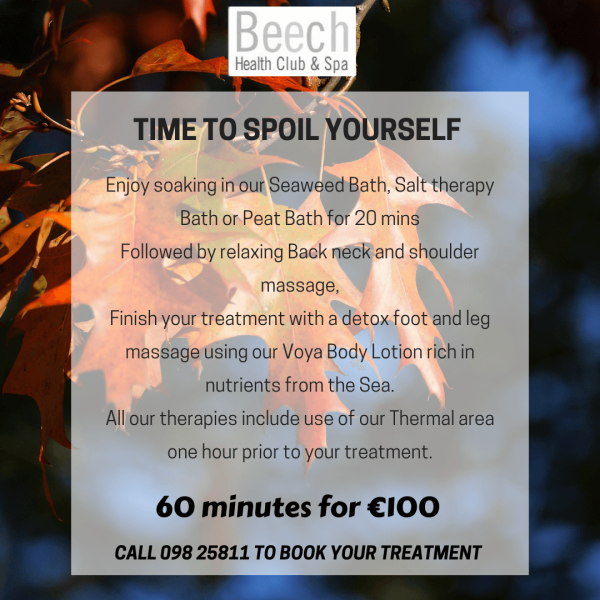 Spa Treatment List:
---
Facials
Voya Deluxe Facial
50 Mins
€85

This innovative seaweed facial pampers your skin to leave it fresh and revitalised with VOYA Organic Products

Voya Anti-Ageing Restorative Facial
50 Mins
€70

Using a comination of Voya's Organic seaweed with pro-collagen extracts and antioxidants. This facial helps fight the signs of visible aging, reducing fine lines, wrinkles and hydrating skin

Self Discovery Radiance Facial
50 Mins
€75

Seaweed products are used to massage the face in order to remove toxins and microparticles, repairing and nourishing damaged skin as a result.

Bathing Selection

Seaweed Bath
30 Mins
€45
Voya Peat Bath
30 Mins
€50
Voya Organic Aroma Salts Therapy
30 Mins
€40
---
Body Scrubs
Voya Organic Stimulating Seaweed Body Buff
50 Minutes €85
Mineral-rich seaweed is a powerful way to detoxify and heal the skin with an organic full body hydration boost application
Voya Organic Luscious Salt Glow
50 Minutes €85
You can rejuvenate your skin with this hydrating scrub that stimulates blood flow and lymphatic drainage, while removing dead skin cells and toxins. It encourages skin renewal, refines texture and can help to relieve muscle pain and fatigue
VOYA Organic Peppermint Seaweed Sugar Glow
50 Minutes €85
Enjoy an all-over VOYA exfoliation to awaken the skin and body. Featuring a beautiful mix of organic peppermint leaf, seaweed and sugar. Dead skin cells are gently removed while introducing you to the uplifting effects of our peppermint essential oil.
---
Massage
Full Body Holistic Massage
50 mins
€80.00
Swedish Full Body Massage
50 Mins
€80.00
Back Massage
20 Mins
€55.00
Voya Back Massage
20 Mins
€60.00
Voya Full Body Massage
50 mins
€85.00
Aromatherapy Body Massage
50 mins
€85.00
---
Pick & Mix – Spa Taster! Mix Any Two Treatments
50 Minutes €80
VOYA Express Facial
Back Neck & Shoulder Massage
Indian Head Massage
Foot Massage
---
Beauty Corner
Manicure & Pedicure 55 Minutes €55
Full French Manicure 55 Minutes €65
Availability can be limited, particularly at weekends so we advise to book your treatment in advance to avoid disappointment. We ask that you arrive to the Beech Spa 5 Minutes before your scheduled treatment as a late arrival will result in a shortend treatment time to accommodate other clients.
All treatments at our Beech Spa must be paid in advance at the time of booking. A full refund is available if notice of cancellation is given 24 hours before the treatment.